Picture it- white sand beaches that are baby soft to the touch, fresh seafood straight from the source and more kid-friendly entertainment than you thought one beach town could handle. Excited? Us too.
This is what we found when we travelled to Panama City Beach, Florida.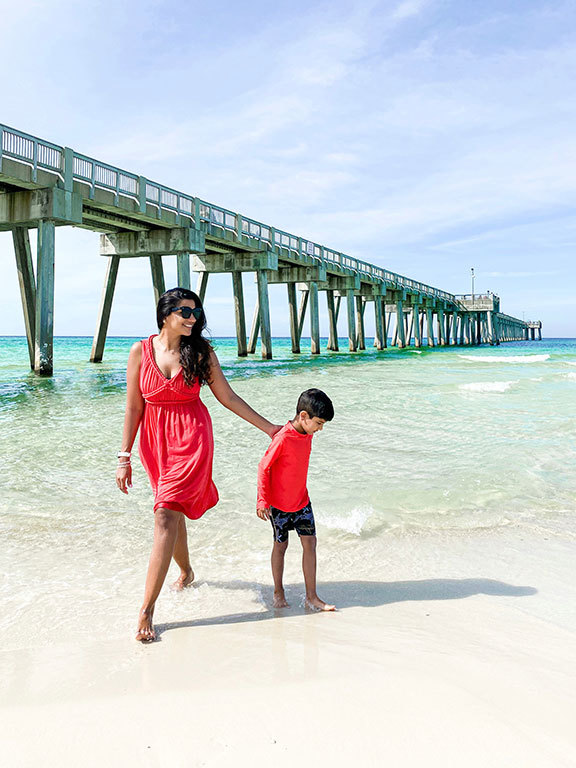 No matter your budget, there are plenty of things to do whether you crave lazy beach days with the kids, nature reserves, sunset cruises or shop-til-you-drop mornings.
So, what are you waiting for? Let's dive into the best things to do in PCB with kids.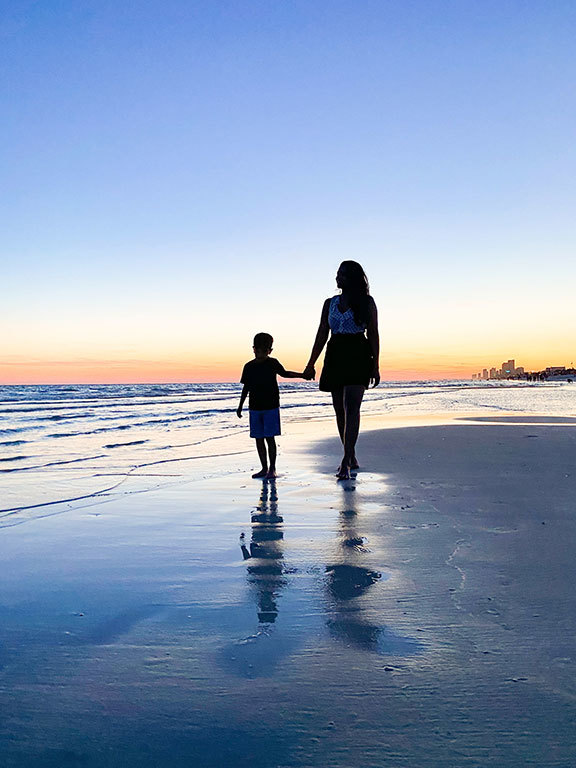 PCB Beaches
Any town with the name "beach" in it pretty much demands that you check out the waterfront. Beaches are free and one of our favorite things to do with kids. With 27 miles of sandy beaches and nearly 100 access points, PCB offers endless opportunities for affordable family-fun experiences.
Go for a swim or snorkel to discover an abundance of underwater wildlife or hop on a fishing trip. You can also search for dolphins on a sunset cruise, try out parasailing or jet skiing like we did. There are loads of water-based activities in Panama City Beach to fill your days that go beyond splashing in the waves and building sand castles (although we love doing that too).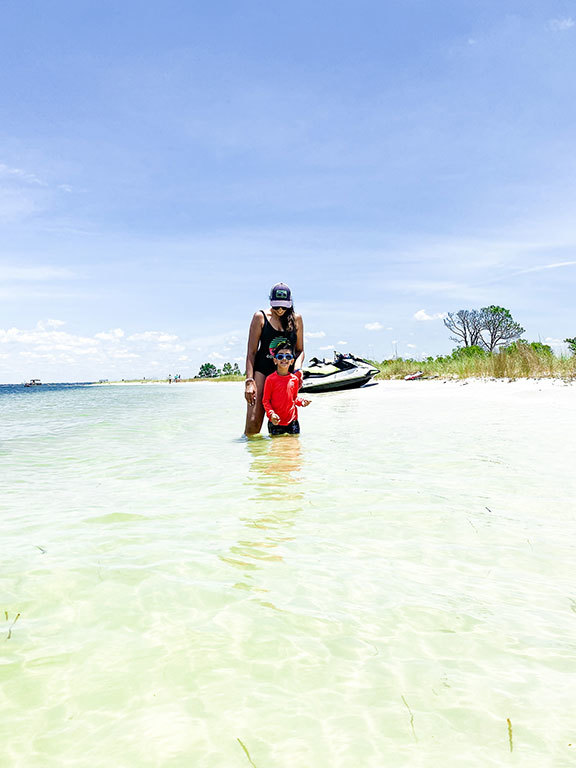 Shell Island
Truly, one of the top attractions in Panama City Beach is Shell Island. We got to experience Florida in its most natural element along this seven-mile barrier island between St. Andrews Bay and the Gulf of Mexico.
My favorite moment? When my 5-year-old son got to see indigenous seashells, like sand dollars, moon snails, conch shells, pin shells, periwinkles, whelk and olive shells, in their natural habitat. He loved that there was no limit to the number of these one-of-a-kind souvenirs he could take home, as long as there were no creatures living in them.
You can rent a pontoon boat, jet skis, private boats or even take the Shell Island Shuttle to get out to the island for a few hours or even a full day of fun.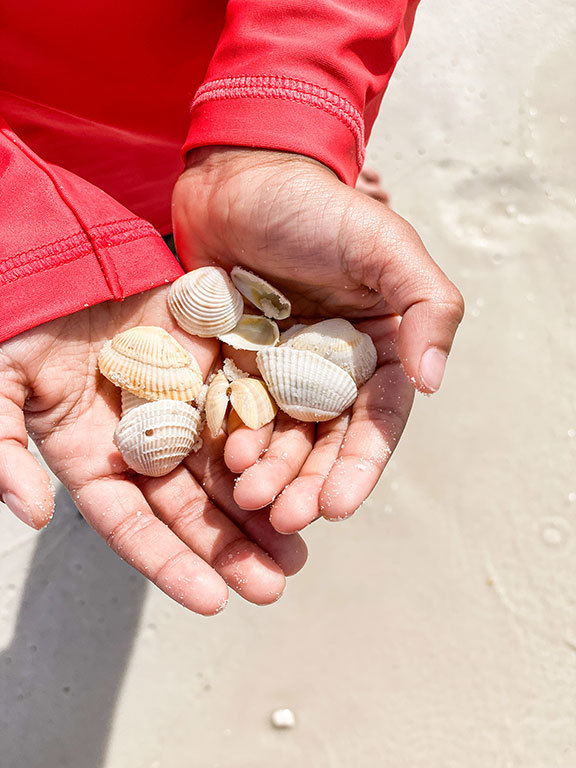 Sea Dragon Pirate Cruise
Sightseeing while pretending to be pirates on a life-size ship is a dream come true for many kids and even adults. My son couldn't get enough of singing pirate songs, partaking in pretend sword fights, cleaning the deck, and even looking for sunken treasure during our two-hour Sea Dragon Pirate Cruise.
Shipwreck Island Waterpark
Shipwreck Island Waterpark is filled with fun, and not just for kids. All ages, even parents and grandparents, will have something to do here.
Jump waves in the 500,000-gallon wave pool or float down the 660-foot lazy river. From a kiddy area to exhilarating slides, Shipwreck Island has activities and water fun for visitors of all ages.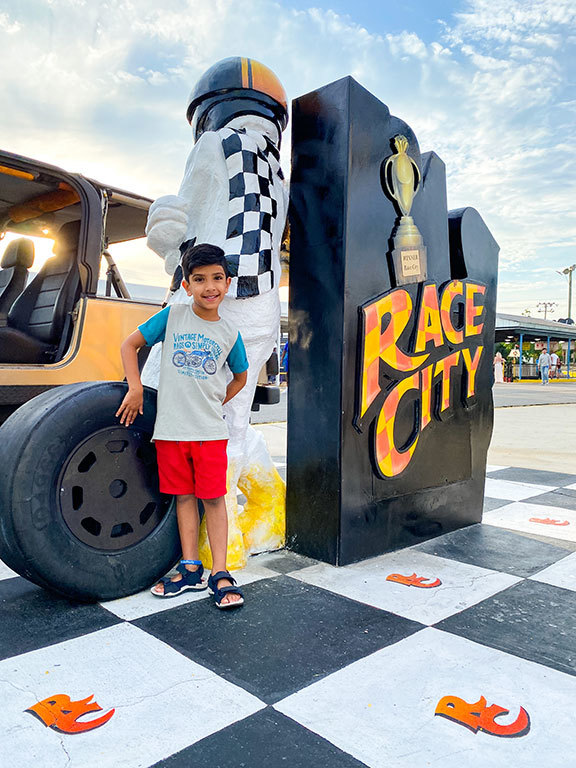 Race City Amusement Park
Race City Amusement Park is definitely home to some of the most exhilarating Panama City Beach attractions for kids. The PCB 500 is the city's fastest, steepest and tallest go-kart track. It's a must-do activity for speed lovers.
For the little ones in your group, there is a smaller go-kart course that they can conquer. My son was able to take his first spin on the Little Speedy track and cannot stop talking about it.
And don't worry, if go-karts aren't your speed, there are also roller coasters, bumper boats, an arcade, and many more of your favorite amusement park rides and activities at Race City.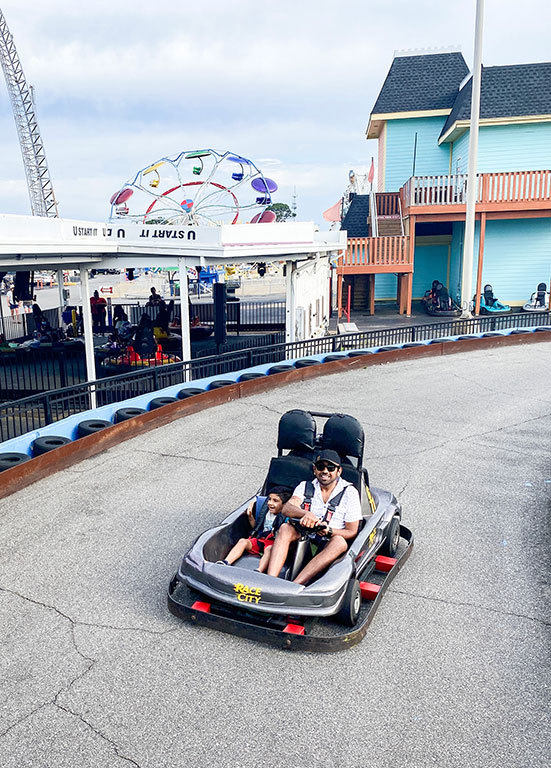 Coconut Creek Family Fun Park
Mini-golf is one of those family-friendly activities that everyone, no matter how young or old, can enjoy together. You could easily spend an entire day at the Coconut Creek Family Fun Park– Laguna Beach conquering their 18-hole mini golf course. The tropical theme plays perfectly into a beach vacation.
Got older kids? They will love getting lost in the giant maze next to the golf course.
With the unlimited games package, you can play mini-golf and wander the maze over and over again. We spent several hours here in the evening after a long day in the sun swimming at the beach.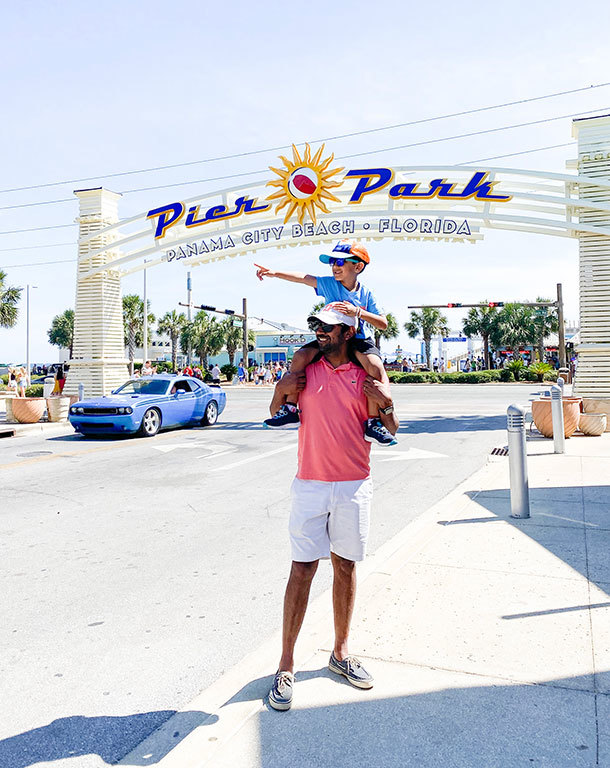 Pier Park
Pier Park offers visitors an endless array of food options, entertainment and shopping.We found it to be the perfect place to pick up a few souvenirs and explore locally-owned boutiques.
It's also an easy spot to grab a meal, enjoy ice cream or even pick up a pineapple-flavored drink to cool down. As a family traveling together, I loved that after lunch my son could enjoy a train ride with his daddy, while I snuck off to do some more shopping.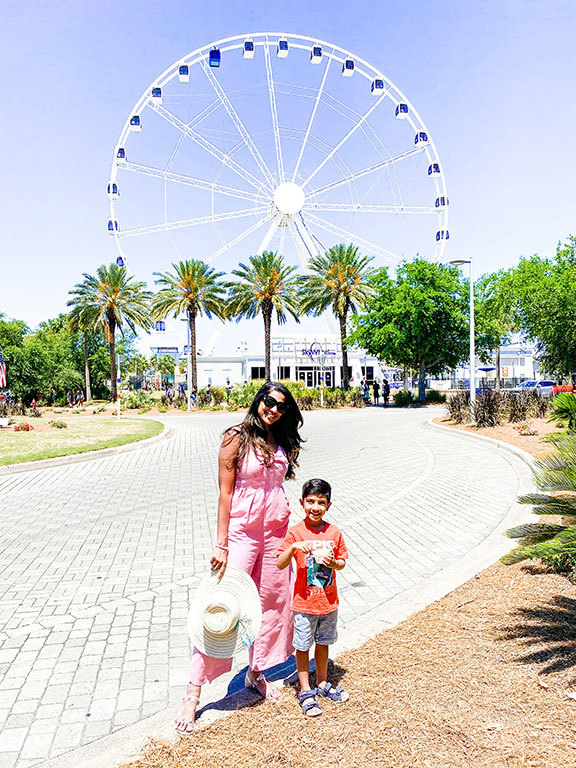 SkyWheel Panama City Beach
Don't be confused by the name– SkyWheel Panama City Beach is an entertainment complex packed with family fun. Soar over the city to enjoy unforgettable panoramic views of Panama City Beach in the fully-enclosed, climate-controlled gondolas.
SkyWheel's close proximity to Pier Park provides a sightseeing experience for families with babies and toddlers up to tweens and teens.