Planning your first trip with a baby doesn't have to be stressful, especially if you book a trip to Panama City Beach, Florida. Families can find plenty of fun in and out of the sun, as well as baby-friendly hotels, restaurants and attractions.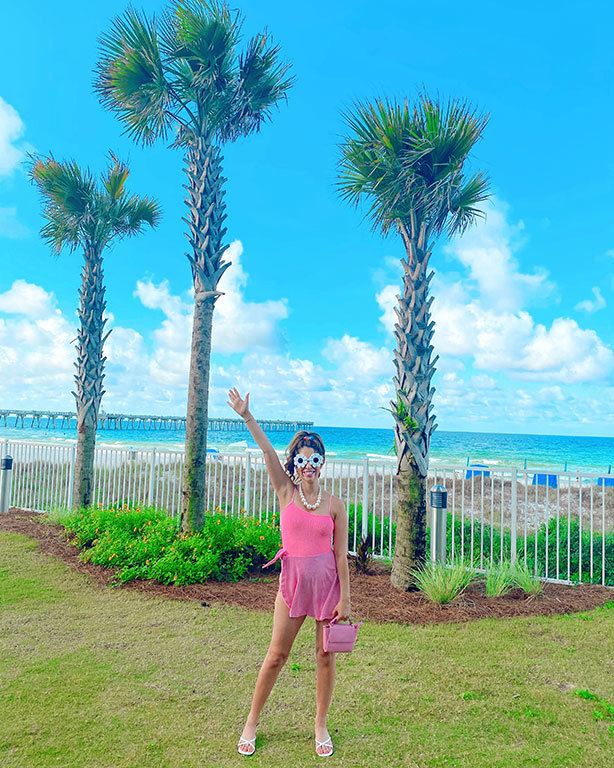 Recently, we took our first baby trip to Panama City Beach (PCB) with our 11-week-old baby boy in tow. As a first-time mom, I'll admit our trip came with some trial and error despite being a frequent traveler pre-baby. But isn't that the case anytime you travel with a baby? There's always something new to discover.
My husband and I went to Panama City Beach on previous trips. It's one of our favorite vacation destinations. The water, the food, the atmosphere, the activities – we always had the best time and found a bit of zen in the waters of the Gulf of Mexico. We knew what we wanted to do, but how would it work with our son traveling with us?
Here's a few tips as you plan your own PCB vacation with babies and toddlers.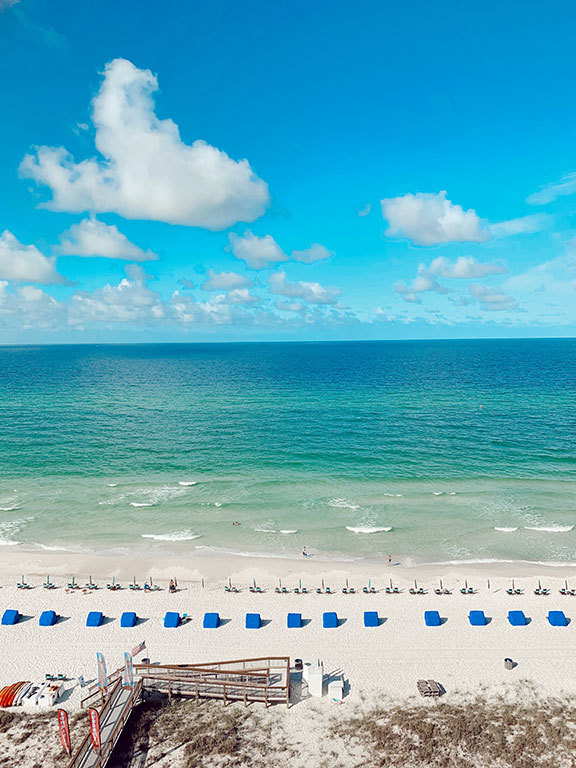 Family-friendly hotels in Panama City Beach
Start your journey off right by booking a hotel that is not only family-friendly, but welcomes babies with open arms. We stayed at SpringHill Suites by Marriott, right along on the Gulf. We could easily relax, unwind and play, and even walk to many restaurants and activities in town.
Since we had booked a suite, we found that it was fantastic to have the extra space. Sleep (or lack of it!) is one of the biggest worries for parents of babies and toddlers. There was ample space for our portable crib, making it easy to create a quiet zone for our son, without having to sneak around a small hotel room.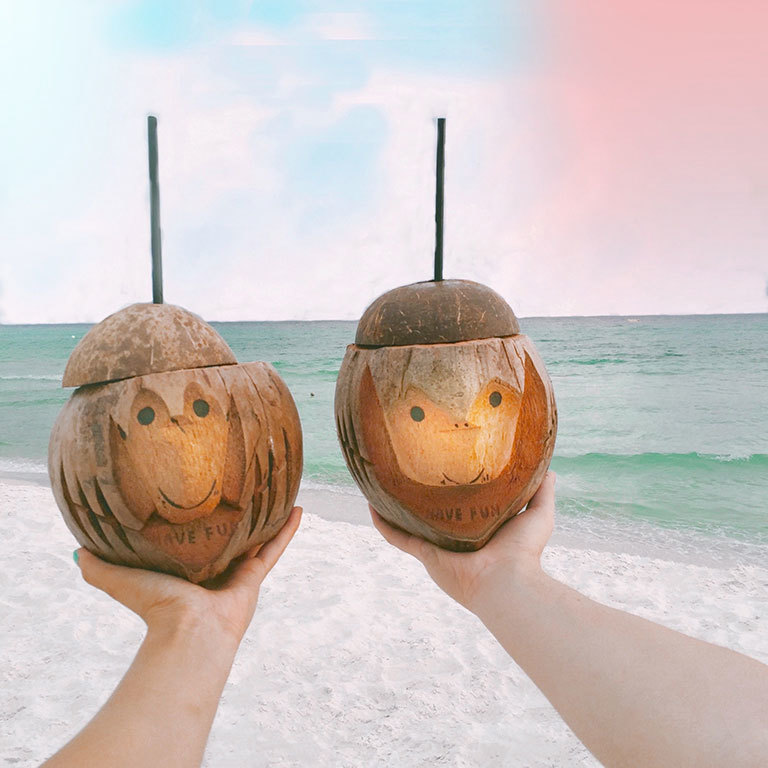 Panama City Beach Restaurants
Just because we had a baby on a feeding schedule didn't mean we had to miss out on all of the delicious restaurants in Panama City Beach. Our favorite lunch spot was Hang Five. If you're looking for great seafood (they have the best seafood nachos) and a nice view, definitely grab a table.
We also enjoyed dinner at Runaway Island. They had a fabulous outdoor setup and live music. Our son was able to sleep in his car seat with a cover over it, making a cozy spot for him while we enjoyed a quiet meal.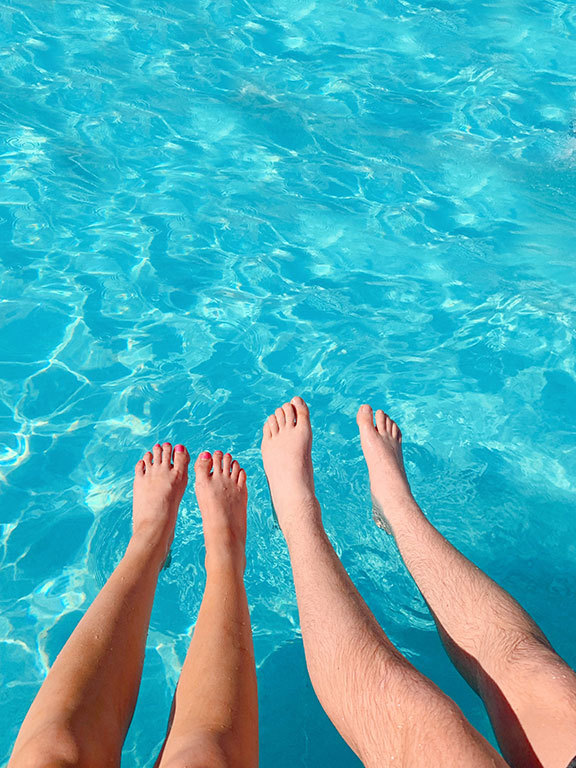 Things to do in Panama City Beach with Babies
One of the biggest adjustments I found when traveling with a baby was the best time to plan activities, and just how much we could cram into a day. The last thing you want is a baby screaming with a wet diaper or hungry for milk while being out and about.
While we did have to plan for feedings every 3 hours, we were still able to enjoy the warm waters and sandy beaches, as well as a few activities in town.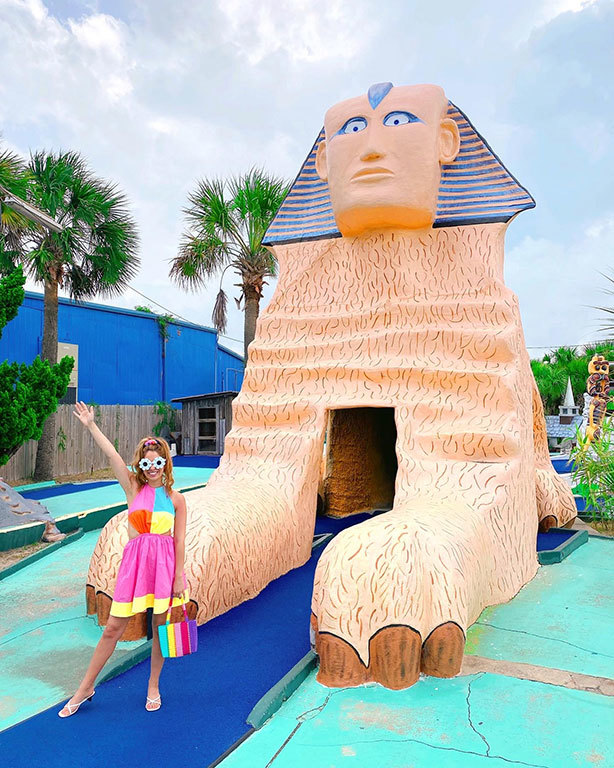 Goofy Golf
Our favorite activity? Goofy Golf, of course! Even with a newborn we were able to enjoy the two, 18-hole mini golf courses, filled with fun giant statues. Plus it was within walking distance from our hotel, right on Miracle Strip, making it easy to pop our son in the stroller and cruise our way through the golf course.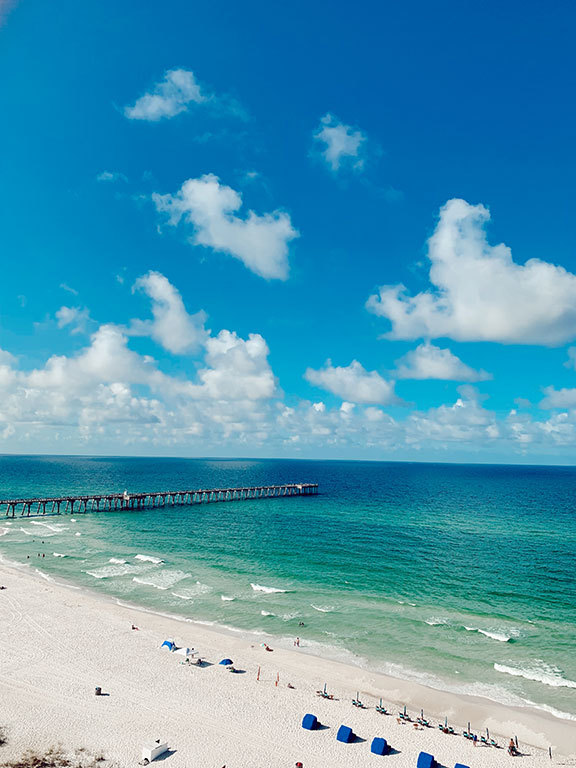 More things to do in PCB with babies
The Beach! You came all this way, so you should definitely visit one of the best beaches in the country.
Visit one of the many souvenir shops to get matching family t-shirts with a cool airbrush design.
Cool down with Dippin' Dots which has a standalone shop right on Front Beach Road.
St. Andrews State Park is the perfect spot to pop your baby in a carrier for a nap as you wander around the park.
Shell Island, a 7-mile barrier island, is a leisurely day trip and easy to access via the Shell Island Shuttle.
Shipwreck Island Waterpark isn't great for newborns, but toddlers and older siblings will love it.